Revolutionize content scheduling with Notion
Streamline and grow your social presence on Twitter and LinkedIn with effortless content scheduling, even while you're asleep!
Join the Notion tribe now

Publish to Twitter and LinkedIn seamlessly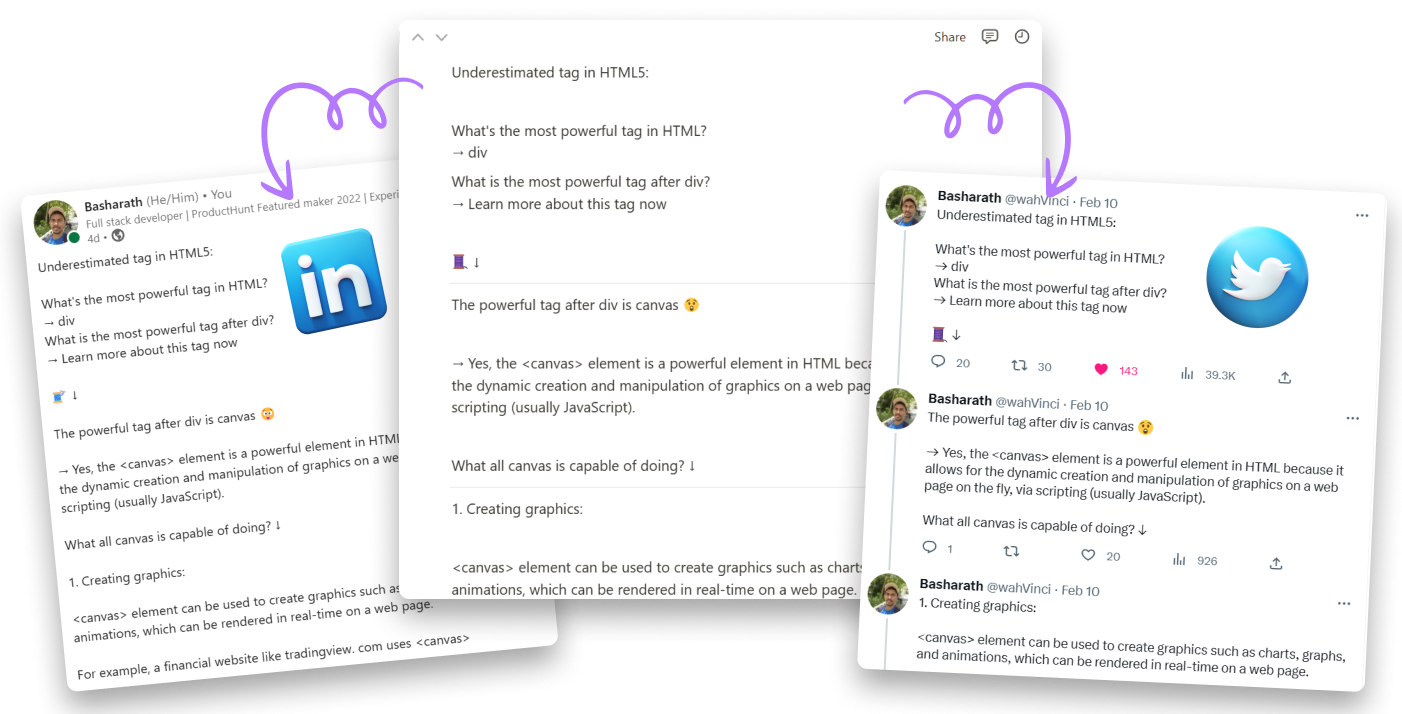 Features
Unlimited tweets/threads
Schedule unlimited tweets, threads and posts for both Twitter and LinkedIn
Schedule at any time in future
Schedule your tweets to any time in future without any limitations
Tweet metrics right inside Notion
All the engagment metrics, impressions, post URLs are updated right inside Notion
Unlimited content repurpose
Republishing your content will be a breeze in just a few clicks right from Notion
Retweet/unretweet at your desired time
Retweet your tweets precisely any time in future and unretweet after a certain duration
Publish threads directly to LinkedIn
Twitter threads will be converted to a full text directly to publish on LinkedIn
Own your content with full control
Own your content with full control over it. You can easily use/reuse it anywhere you want
Convert notes to tweets in seconds
Your notes can be quickly converted and scheduled as tweets/posts
Customize views as per convenience
Customize the Notion views as per your own convenience to improve your productivity
Pricing
Most affordable and value based plans
Start with 7-day free trial. No credit card required.
Unlimited tweets & threads
Ready made Notion template
Schedule any time in future
Publish content at precise time
Unlimited content repurpose
Retweet at your desired time
Auto unretweet
Tweet metrics right inside Notion
Upto 1 social account
Unlimited tweets & threads
Ready made Notion template
Schedule any time in future
Publish content at precise time
Unlimited content repurpose
Retweet at your desired time
Auto unretweet
Tweet metrics right inside Notion
Upto 4 social accounts
High support
Unlimited tweets & threads
Ready made Notion template
Schedule any time in future
Publish content at precise time
Unlimited content repurpose
Retweet at your desired time
Auto unretweet
Tweet metrics right inside Notion
Upto 16 social accounts
Ultimate support